X's and O's Beside Your Name.

Summer's been doing me some good and some bad. You don't have to know what I'm talking about, but I gotta let some things out. There have been so much I've noticed in such a short time that can get me thinking, but don't get me wrong, it's only thoughts, opinions, doesn't mean that I'll continue thinking this way, but when something isn't right, wouldn't you question it? It's just basic instinct. As the years go by, I've grown used to a certain lifestyle and a sudden change can take me a while to get used to, and I don't always accept it so willingly. I guess I can be stubborn sometimes, but is that so wrong if I'm only fighting in what I believe in? I can't just "get over it" and "move on" as easily as you'd like to believe; I'm living at my own speed, and if I can't catch up, then maybe you're trying to grow up to soon.

Communication is key.

It can be a painful process, but it gets things done if done correctly. I've been accused of this and been called that, but look, I'm still looking up and my feet is firm on the ground. Second chances mean a lot, so we should make the most out of it, cause third chances don't always swing by for a visit. I guess there are things I would make

Part of The List

, but that'll stay secret. If you could step into my mind and take a walk, you'd be walking for days and days, opening each door and looking through each window. If you could walk in these shoes, you'll see how much miles I've had to sweat over just to get where I am today. If you could see through these eyes, then you'll notice that not everything is in color and not as bright as it should be. You'll see that there's more to me than you think.


On Saturday, July 11, 2009 at 10:03 PM





Gone Too Soon..

His memorial was today, and how emotional was that? The world won't be the same without him. So many of his fans attended that memorial, but I couldn't help but wonder how many of them judged him based on his actions, whether it be dangling a baby from a balcony or sleeping with children, he has been judged. Now that he's passed on, I bet they're starting to regret it, and act as if they were a true fan all along, and it just hurts inside. How can someone act as if they hate him and then when he leaves, act as if you care? That's just plain retarded. It's people like that who drove him insane, who kept him from sleeping at night, and now he's gone. Why couldn't they just leave him alone? We all make mistakes, but we learn from them, and that's what makes us who we are. I'm still in denial, he can't really be gone yet.. I know one day this dream will end and he will wake up from his ever lasting sleep, right? :( I couldn't help but tear up while watching his memorial, his family is going through so much pain right now and especially his children. His daughter's speech was just so sad and touching, even if it was short. Her little heart was breaking in front of all those people, and it's just awful, she is so young. But now he can have the peace he never had here on earth. Hope you're having a conversation with Elvis about your super collab and call it "From King to King" haha. Here's one fan that's been true, and you'll be missed.

R.I.P Michael Jackson

♥


On Tuesday, July 7, 2009 at 8:15 PM





Catch of the Day.

Whoa, I haven't updated this in so long. Ever since the move, at first, it was just so hectic, being tired as hell.. the work just kept coming. A certain woman giving me hell making me wanna just leave the house and get away from all the bullshit. But, there would always be one place I know I could run to and feel secure, not a home, but in

his arms..

is where I feel the safest. After a while, things between me and her started to shape up and improve, but I know this is only temporary because that's just how she is. I also got lovebirds! Arvin & Melanie is what Arvin's mom calls them. They were his birds first but ever since they got a dog, they haven't really been taking care of it, psh.. haha. So I came just in time so save those birds lives, and if they're named after

us

, I guess I better take good care of them, which I am of course. They layed an egg! But I gotta take care of it myself cus they eat their own eggs.. that's dirty. The last couple of days recently have been

amazing

, because I got to see

him

. Even if our beach plans were a flop, I still enjoyed relaxing with you and just watch each other fall asleep. Then it hits me, in 2 months, it's our 3 years..

3 YEARS

, how frikken long is that!? Tooooo long, but here we still are. We've been put through the most hardest of situations, leaving me to believe that we wouldn't overcome it, but still you've proven that you do

care

and that you really are

trying to be the best man for us

. There's something different about us, something isn't the same, and you know what, that's what I love. It feels as if things are better, like a rainbow after a rainstorm. True happiness is found from suffering. We've both reached a point where we've realized the more important factors, that no matter how high the mountain is, we gotta keep climbing. I guess what I'm trying to say is that I'm glad we've come this far and that we're still on the same page, so don't turn it yet, because that chapter of our life hasn't come yet, so enjoy the day while it's still upon us, and hope for a better tomorrow.


On Monday, July 6, 2009 at 11:54 AM





Late Nights.

I'm FINALLY done all my exams, well I finished it all two days ago, but now I have so much free time I don't know what to do exactly. I should be sleeping right now but it still seems too early for me. Plus I'm so excited because today is my prom! and I can't wait to be spending the whole night with

him

. My dress was hella expensive, but it was so last minute too, but i BEST not see anyone else wearing the same dress as me, lol. Too bad I couldn't find a nice silver dress like I wanted, but black seems elegant enough so whatever. I wish

he

was online right now, but he's got school still so he needs his beauty rest haa. Oh, how I miss him so, even though I just seen him a few hours ago, it's so hard just to say goodbye to him, no matter how short the distance might be. He's going to look so handsome in his suit, I can't wait to see him. It's not just my prom but

OUR

prom since he didn't attend his. I'm hoping this night goes by well, I just don't want to get my hopes up and then it turns out to be just another party which seems flop, but my night is spent with him, so how bad could it really be? Not bad at all. I guess writing this blog made me feel sleepy, I better get some sleep, I'm gunna need it.


On Thursday, June 18, 2009 at 1:28 AM





It's Luck .

Girl: The world is so big, there's so much people in it.




Boy: Yeah, there's quite a few.




Girl: Even in this city, you could see one person and then never see them again.




Boy: That's not true. You can see them again if you're lucky enough right?




Girl:.. Then we must be really lucky!





It's true, when you walk down a street and see the many different faces, you might never see them ever again. But to see that one face over and over again is really lucky. How lucky am I to see him as much as I do? When there are couples out there who are together in completely different countries. I can't even imagine the kind of pain that must be, just feeling that when he left for Philippines was already too much to bare, when he came back, everything just felt complete again. A month, felt like a year to me. Each hour we couldn't talk felt like a day, even getting the chance to talk with him for a few minutes was good enough, as long as I knew he was alright. It's so sad when couples take each other for granted, saying things they really don't mean, then when it's too late, they can't take it back, and regrets are born. They don't think before they act, not realizing that it's possible they could never see this person again, so why not make every second count? How long would you wait to make a problem better? What will your last words be before you go to sleep? All I'd want to say is.. even if I'd never see you again, my

love

will always be with you

.




On Thursday, June 4, 2009 at 9:53 PM





My Troubled Thoughts.

So much has happened in such a short amount of time, and the amount of thoughts that have crawled into my mind is simply

amazing

.

We've all had those thoughts wondering what the point of

living

is when we're put here just to

die

, I know I have, but there are so many things to live for, so much knowledge still yearned to be gained, or is there? How can we be sure of anything, that anything we actually believe in is true? Experience showed me that my eyes can't be trusted, so do experiences prove anything at all? I admit, I might have some trust issues, but

trust is just a luxury I can't afford

. I've

watched myself get

hurt over the same mistakes, but still I continue to let go, forgive and live, but if I've had to forgive the second time around, did I really forgive the first time around? Maybe I didn't. Sometimes it feels as if my life's obstacles run past me, and then catch up to me later on, all at the same time, and I can't help but fall to my knees because the pressure is to much to bare.

Trust

. What does it actually mean? I might have had a glimpse of it in past occurences, but I've seem to lost my grasp on the meaning. How many times can you forgive a person, before they realize they keep making the same mistakes? What if they never realize it? Do I keep letting myself get hurt in hopes for the best? People change, it's true, some in good ways and some in bad, and some changes are just too hard to cope with, it's too drastic, as if meeting someone new.

Doubts;

it keeps me thinking. Is every word a person says true or lies? I would never know, or am I too ignorant to tell the difference? Or am I just denying the fact that I can't handle the truth? A person can say one thing and then can easily take it back, I would know. I was the type to never get attached to anyone, not take things seriously, I didn't know how to love, until he showed me how. With him I learned so many things, that love really can be an amazing experience, that love is worth all the fights in the world, and especially that he was worth the pain, but I've also learned that even those who are closest to you, can turn their backs on you when their back is what you held on to. Love can easily turn into hate when you least expect it. If you think things are perfect, you would just assume that the other person feels the same way, but how good of an actor can a person be? To be wearing a mask, a disguise blinding me from the truth, and now I see. I can't let myself go back down there, it was almost impossible just to get back on my feet and

start breathing again.

These words, I've heard it all before, these words, do they have meaning to you?

I've

watched myself get

hurt over the same mistakes, but still I continue to let go, forgive and live, how many times will I go through this cycle?

How many...





On Tuesday, June 2, 2009 at 10:57 PM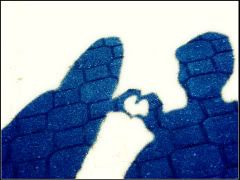 Melanie V. Romero | FHC Graduate | Valentine Baby ♥ | SXIV AJOV ♥ | Happy & Satisfied .
Connections
Arvin Vendiola , Athina Yujuico , Danielle Santos , Diandra Santos , Ero Saludares , Gabrielle Cee , Jackie Lacsina , Jayare Araneta , Jazmine De Borja , Jennifer Ibana , Jessica Enero , Johna Autencio , Jojo Santos , Jordan Salonga , Karen Abogadil , Kenneth Broas , Kevin Mayor , Kristine Velasco , Lester Atienza , Linda Hsiung , Melanie Delacruz , Michelle Van Le , Monique Lacasandile , Noralee Yarra , Peter Neil Policarpio , Ralph Reloza , Ranya Majeed , Ryan Sta.Mina , Stefany Yumul , Tristan Cejo , Trixie Gatchalian
By title
X's and O's Beside Your Name.
Gone Too Soon..
Catch of the Day.
Late Nights.
It's Luck .
My Troubled Thoughts.

By month